Medical film printer for use with DR X-ray machine
Product Detail
Product Tags
[Product Name] Inkjet Medical Film Printer
【 Model and Specification 】 MP5670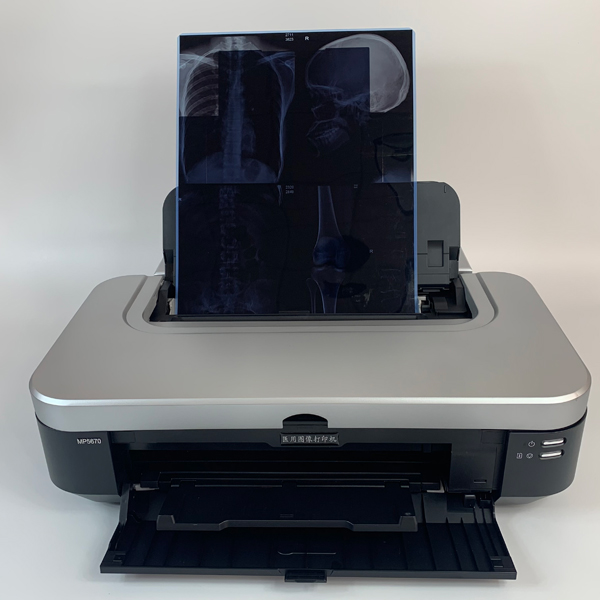 Working principle: Using the input signal provided by X-ray equipment, it generates an indelible image on the film. Image device
Applicable scope: Used to generate X-ray images on the film. (Ordinary X-ray machines (CR machines, DR machines), CT scanners (CT), magnetic resonance imaging (MRI), gastrointestinal machines (DSA), computed radiography (CR), multifunctional X-ray machines (DSA))
MP5670 Inkjet Medical Film Printer
A printer developed for printing new medical materials based on the characteristics and needs of medical imaging. The printer uses bubble technology inkjet principle for image printing. By heating, expanding, and compressing ink in a short period of time, ink is sprayed onto the printing paper to form ink dots, increasing the stability of ink droplet colors and achieving high-speed and high-quality printing.
Its inkjet printing is physical imaging, which has no chemical reactions compared to the previously commonly used dry laser imaging and thermal imaging, is more low-carbon and environmentally friendly, and is in line with the new trend of low-carbon medical treatment;
As a civilian printer, inkjet printers are easier to install;
Low power consumption, only 55 watts, which is one tenth of that of medical lasers and thermal printers;
The printer does not need to be preheated and can print when turned on;
It supports black and white and color printing, and has a very wide range of applications. It can print black and white DR, CR, CT, NMR images, as well as color ultrasound and CT Iterative reconstruction color images;
The cost of inkjet printers and film films is relatively low, which can reduce medical and patient costs. The printing head is printed on environmentally friendly new medical film, making the image presented clear, without any roller indentation, and with obvious contrast; Make the image have bright colors, high glossiness, better image quality, and accelerate the drying speed of the image, increasing its storage life.
High definition resolution 9600X2400dpi
Printing resolution is an important indicator to measure the printing quality of a printer. It determines the level of precision that a printer can display when printing images, and its level has a significant impact on the output quality. Therefore, to a certain extent, printing resolution also determines the output quality of the printer. The higher the resolution, the more pixels it reflects that can be displayed, presenting more information and better and clearer images. Currently, the resolution of general laser printers is around 600 × For image printing, a higher resolution of over 600dpi means a richer color hierarchy and smoother intermediate tone transitions. It often requires a resolution of over 1200dpi to achieve this. There are now many enhancements to improve resolution, such as Fuji Xerox's C1110, which can reach 9600 * 600dpi. It is said that the image hierarchy is very good.
The MP5670 inkjet medical film printer, developed for various characteristics of medical imaging, has a resolution of 9600X2400dpi, several times that of a laser camera.
---
---
Write your message here and send it to us